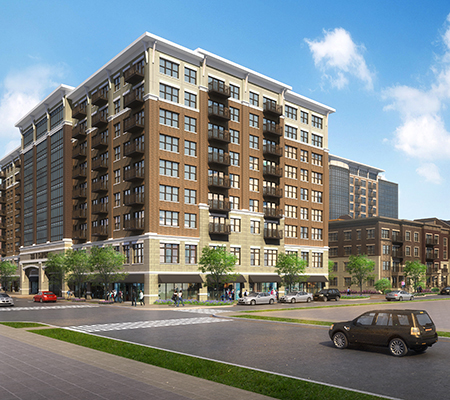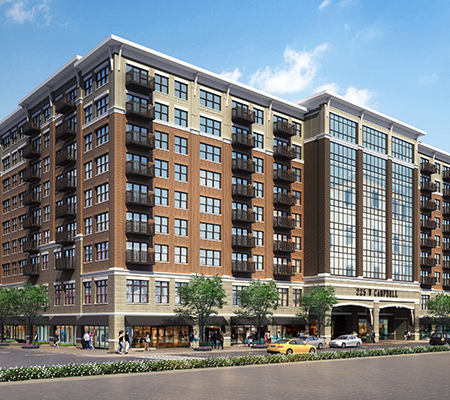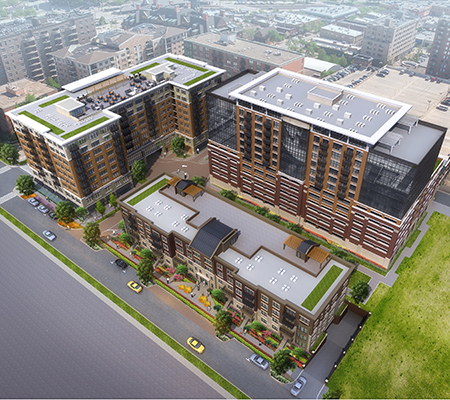 PROJECT DESCRIPTION
The Basics
Total proposed residential units (mix of studio, 1-BR & 2-BR) 361
Total number of enclosed parking spaces 565
Total retail square footage Approximately 28,000 SF
Total office square footage 8,000 SF
The Buildings
The three buildings that comprise Arlington 425 are designed to work in unity to create a unique living experience while fitting in with the already thriving downtown area of Arlington Heights. The development embraces the rich history and established traditions of this exceptional neighborhood while providing today's renters with the latest design features and amenities. The Highland and Campbell buildings are designed to include rooftop space for recreation or common areas along with garden and green space in interior courtyards below.
225 WEST CAMPBELL | A 9-story building featuring 182 apartments and up to 24,000 square feet of retail/office space. The building will be designed to integrate with the character of surrounding residential high-rises. 225 West Campbell will be connected to the 44 South Highland garage.
44 SOUTH HIGHLAND | Built on top of a proposed 5-story parking garage that will abut the Vail Street parking garage, this building will rise to 13 stories in total with 125 units. Using a combination of materials including a partial glass exterior, the Highland building will provide a facade that will balance the neighboring structures and the open sky above. The top floor will include the Arlington 425 amenity center.
33 SOUTH CHESTNUT | A classic residential building featuring 54 units in a 4-story building designed to create an historic neighborhood rowhome feel.
Living at Arlington 425 provides access to the thriving downtown community with entertainment, dining and shopping all steps away. You don't need to go anywhere - it's all right here. You can also be out your door and on the Metra in literally a minute or two, or in your car and on multiple expressways before the first song on the radio ends.
Residents of Arlington 425 will enjoy spacious, contemporary designs built for comfortable living and productive space for the ever-increasing work from home population. Shared spaces among the three buildings provide social opportunities built around conversation, fitness and relaxation.
If you've been trying to figure out what your priorities are in your new residence, relax. At Arlington 425, you don't need to choose. You can have it all.
THE NEIGHBORHOOD
Can you envision a neighborhood with established traditions and a contemporary easy-to-walk community with food, entertainment and shopping all in one place? When you live at Arlington 425 you can experience it rather than envision it. It's all right outside your front door.
Downtown Arlington Heights has been recognized as one of the first, and finest, transformative communities in the area. You'll encounter block after block of exceptional dining options featuring a tantalizing array of cuisines, some of the most popular national retail chains side-by-side with unique locally-owned boutiques, live theatre and music, first-run movies, and multiple parks. Wave to neighbors on a summer night as you dine at one of the local restaurants featuring outdoor seating, mingle with friends at one of the many outdoor concerts, enjoy a rest after a bike ride by a beautiful fountain in one of the nearby parks, and impress guests with the vibrant neighborhood you live in.
Your street might be filled with kids on a field trip to see a theatre performance, the local running club getting ready for a workout, local retail and professional business owners walking from home to work, and plenty of friendly faces who make up the fabric of this exciting community.
The only thing missing is you. Now's the time to secure your new residence at Block 425.
https://discoverarlington.com/
http://www.metropolisarts.com/
https://www.heynonny.com/
http://www.ahml.info/
https://www.cmxcinemas.com/theaters/5/cmx-arlington-heights
https://www.nch.org/